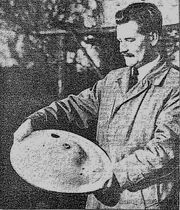 The Silpho Moor incident was a UFO witnessed by three men in Silpho, Yorkshire on November 21, 1957.[1] The 'flying saucer' was originally found by Scarborough businessman Frank Dickenson, who was driving near the moor with two of his friends, Frank Hutton and Fred Taylor,[2] when they spotted a glowing object in the sky that appeared to fall to the ground.[3]
The incident is considered to be a 'British Roswell', and the object has been dubbed the 'Silpho UFO'.[3] The 'Silpho UFO' was shown to have glyphs[4] inscribed on the outside (lower-left image).[1] Gordon Claringbull, Keeper of Mineralogy, Natural History Museum (1953–1968), who specialised in meteorites and explosives claimed he couldn't find anything unusual in the samples.[5] But, Air Chief Marshal Lord Dowding, who examined the 'Silpho UFO' in 1959, left him believing that it was of extraterrestrial origin. The remaining pieces of the UFO had been stored in a tin metal box since 1963, at London's Science Museum.[3]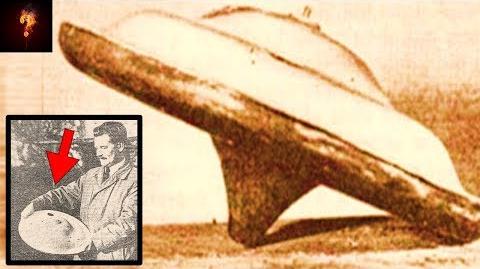 A message
Edit
Frank Dickenson, Anthony Parker and Philip Longbottom forced the object open.[3] Inside the 16-18" wide UFO, which appeared to be an unmanned drone, contained a Copper Book (lower-right image) having 17 thin sheets with phonetic symbols.[1] UFO investigator Philip Longbottom[2] allegedly deciphered its overall message as:
'You will improve or disappear.'[3]
Rediscovery
Edit
Peices of the Silpho UFO were recently rediscovered in the same tin box, since 1963, after David Clarke of Sheffield Hallam University, gave a talk on the release of the Ministry of Defence's UFO files at the Science Museum, London.[3] Peices were sent out for analysis by experts in 2018. Tests carried out at University of Manchester revealed the object's shell contained lead and the copper parts were of unusual high purity. There was no evidence of exposure to high temperatures to suggest coming from outer space[5] (See also They live among us).
---
References
Edit
↑ 1.0 1.1 1.2 1.3 1960's UFO Crash Artifact Covered With Hieroglyphics Found In Museum, 20 Feb. 2018
↑ 2.0 2.1 Mysterious Universe, The Strange Story of the UFO on the Moors, by Nick Redfern, November 22, 2016
↑ 3.0 3.1 3.2 3.3 3.4 3.5 Telegraph, Lost wreckage of 'British Roswell' flying saucer discovered in Science Museum, by Sarah Knapton, 11 FEBRUARY 2018
↑

Ref note: The News clipping refers to the glyphs incorrectly as "heiroglyphics", which are actually ancient pictograms.

↑ 5.0 5.1 Metro, Wreckage of UFO 'with secret message from aliens' is found hidden in box after 60 years, by Rob Waugh, 12 Feb 2018
Resources
Edit
Community content is available under
CC-BY-SA
unless otherwise noted.