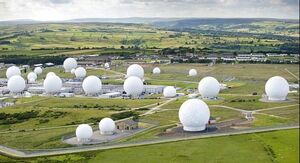 Royal Air Force Menwith Hill is a Royal Air Force station near Harrogate, North Yorkshire, England, which provides communications and intelligence support services to the United Kingdom and the United States. The site contains an extensive satellite ground station and is and has been described as the largest electronic monitoring station in the world.[1] RAF Menwith Hill is owned by the Ministry of Defence (MoD), but made available to the US Department of Defense (DoD) under the NATO Status of Forces Agreement 1951 and other, undisclosed agreements between the US and British governments. It is run entirely by US authorities.[2]
The Signals Intelligence site[2] acts as a ground station for a number of satellites operated by the US National Reconnaissance Office,[3] on behalf of the NSA, with antennae contained in a large number of highly distinctive white radomes, locally referred to as "the golf balls", and is alleged to be an element of the ECHELON system.[4]
Mystery lights
Edit
The RAF Menwith Hill is suspect for the mystery lights witnessed at Ilkley Moor, Yorkshire, a moor that has numerous UFO sightings, such as the Philip Spencer encounter.
References
Edit
Resources
Edit
Community content is available under
CC-BY-SA
unless otherwise noted.