Project 1947 is the study of mass waves of UFO sightings, incidents and crashes that occur between the period of 1947[1] to 1952/3. In the Alien conspiracy, this period is the prep phase, before Solar Warden announces its presence to key Nations around the World. The US picks up on alien signals during project SIGMA, in 1953. The number of UFO incidents/crashes decrease by 1954, with UFO sightings being reported about once a week in the mid '50s,[2] but on a decline.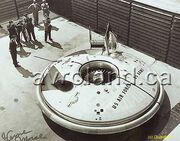 To coverup the 1947 UFO Wave, mock UFOs were designed as ploys.
References
Edit
Great Flying Saucer Wave of 1947
Gasser
Project SIGN
Top Secret 1949
Community content is available under
CC-BY-SA
unless otherwise noted.