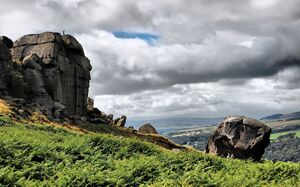 Ilkley Moor is a moorland in West Yorkshire, England. The moor, which rises to 402 m (1,319 ft) above sea level, is well known as the inspiration for the Yorkshire "county anthem" On Ilkla Moor Baht 'at (dialect for 'on Ilkley Moor without a hat').[1]
An eerie moor
Edit
Ilkley Moor is reminiscent of the eerie setting of the moors of Baskerville Hall in Conan Doyle's "Hound of the Baskervilles." It has been said that "The Ilkley Moor can scare you to death during daylight, and at night it's even worse." The moor has strange and mysterious artifacts, such as the Swastika Stone, the Badger Stone and the Twelve Apostles stone circle.[2]
Mystery lights
Edit
Ilkley has legends of hovering lights at night. There are strange, swirling lights that are filtered through the fog that seem to have a mind of their own. It is possible that some of the mysterious sights can be attributed to the not too distant Menwith Hill Military Base, or the nearby Leeds Bradford Airport.[2]
Philip Spenser encounter
Edit
The Philip Spencer encounter on December 1, 1987, happens at Ilkley Moor. Spenser was walking across the moor on this December morning heading for his father-in-law's house. While on the way, he was hoping to get some photographs of the strange light tricks of the moor. To be able to get the images he desired, he was using a high ASA rated film to compensate for the poor light in the area. At some point during his walk, he faced an encounter, and was allegedly taken aboard an unidentified flying craft. After his release, he managed to snap a picture of one of the alien beings.[2]
References
Edit
↑ Wikipedia, Ilkley Moor
↑ 2.0 2.1 2.2 UFO Casebook, The Ilkley Moor Alien, by B. J. Booth
Community content is available under
CC-BY-SA
unless otherwise noted.