Homestead Air Force Base, renamed after Hurricane Andrew in 1992.[1]
1945 Homestead hurricane
September 12, 1945, tropical cyclone detected
September 15, hurricane makes landfall, winds clocked at 145 mph by Homestead Army Air Corps; hurricane weakens to Category 1 late September 15.[2]
December 14, Homestead AFB shut down[3]
Mueller report: Base heavily damaged by hurricane, resulting in its inactivation on 14 December 1945. When the U.S. Air Force was established as a separate service on 18 September 1947, the old Homestead AAF lay in ruins.[3]
Reactivated for Strategic Air Command (SAC), advance arrived in summer, 1954. Initiated clean-up and reconstruction efforts. Renamed to Homestead Air Force Base, 1955 February 1.[4]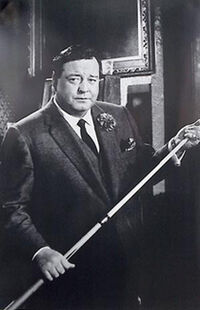 1973 February 19
Jackie Gleason:[5]
"There were a number of labs we passed through first before we entered a section where Nixon pointed out what he said was the wreckage from a flying saucer, enclosed in several large cases. Next, we went into an inner chamber and there were six or eight of what looked like glass-topped Coke freezers. Inside them were the mangled remains of what I took to be children."
Community content is available under
CC-BY-SA
unless otherwise noted.