Jurassic World: Dominion Dominates Fandom Wikis - The Loop
Play Sound
Dwight D. Eisenhower served as the 34th president of the United States from 1953 to 1961. Eisenhower was raised in Abilene, Kansas, in a large family of mostly Pennsylvania Dutch ancestry. His family had a strong religious background. His mother became a Jehovah's Witness. Although he did not belong to any organized church until 1952, Eisenhower is said to be "one of the most deeply religious men I know". He was baptized in the Presbyterian Church in 1953.[1]
Val Thor
[
]
Val Thor was a VIP at the Pentagon from March 16th, 1957[2] to mid 1960.[3]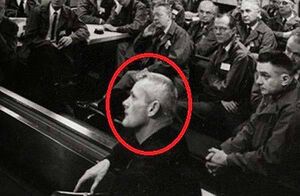 Excerpt from Frank E. Stranges 1967 book, Stranger at the Pentagon:[4]
Eisenhower: "Please, sir, what is your name? And where do you come from?"
Thor: "I come from the planet your Bible calls the morning and the evening star."
Eisenhower: "Venus?"
Thor: "Yes, sir."
Eisenhower: "Can you prove this?"
Thor: "What do you constitute as proof?"
Eisenhower: "I don't know."
Morning star. In Hebrew mythology, the King of Babylon is the personification of the "morning star".[5] A dirge is given against the king[6] in Isaiah 14:12:
Shining (O Lucifer)[KJV] morning star,[5]
how you have fallen from the heavens!
You destroyer of nations,
you have been cut down to the ground.
Evening star. In Greek mythology, Hesperus (Greek: Ἓσπερος ) is the personification of the "evening star", where the planet Venus is observed in the evening (compare to Aurvandil).
Notes
[
]