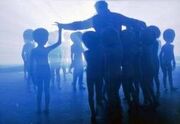 A Close Encounter of the fourth kind is a close encounter of a UFO event in which a human is abducted by a UFO or its occupants.[1] This type was not included in Hynek's original close encounters scale.[2]
Hynek's erstwhile associate Jacques Vallee argued in the Journal of Scientific Exploration that the "Fourth Kind" should refer to "cases when witnesses experienced a transformation of their sense of reality", so as to also include non-abduction cases where absurd, hallucinatory or dreamlike events are associated with UFO encounters.[3]
List of abduction cases
Edit
References
Edit
Resources
Edit
Informania: Aliens, page 19
Community content is available under
CC-BY-SA
unless otherwise noted.